Six is the record number. And I intend to beat that in every way I can. most definitely, I wouldn't like that to be the highest number I can attain. Six will never be the highest and I will try my hardest.

The perfect venue recipe: a small room, dimmed lighting, indoor smoking, a great exhaust system, perfect sound mix, and very few chairs. Create this venue, people will feel damn close, cozy, and dilated.

My sky-high, 5 inch, high heels weren't used last Friday. This is much to my relief because added height could have lessened the record number 6. And much to my frustration coz my legs could have been accentuated complimenting my leather skirt.

Wit was my advantage, buzzed was my weakness, inhibition was my arsenal, mystery was can be both relevant and disadvantageous, my smile was the fire starter.
There is something about leather. And leather being a skirt. i'd like to think that was the main reason why I have been very much appreciated last Friday. If there was a moment that I felt hot, both literally and figuratively, it was that day and the events surrounding it.
Title: Jeepney
location: commonwealth
Motion shot
Title: Gossip Girl
Location: Attica
Narrow depth of feild
1st project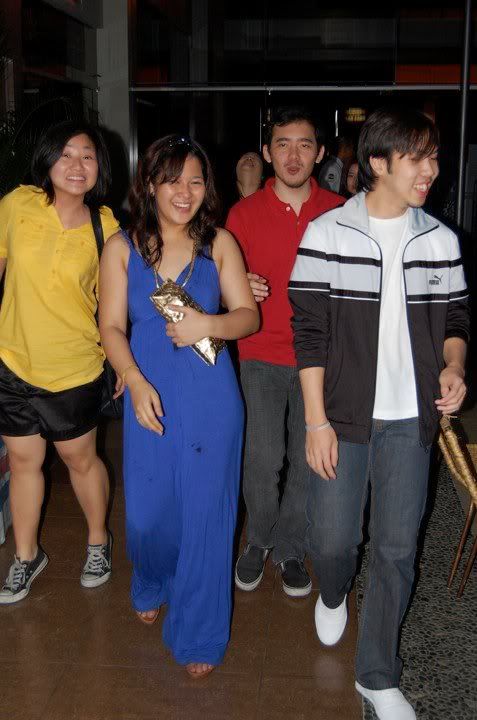 Title: Marielle
Location: 6th floor roof top
emphasis on big / small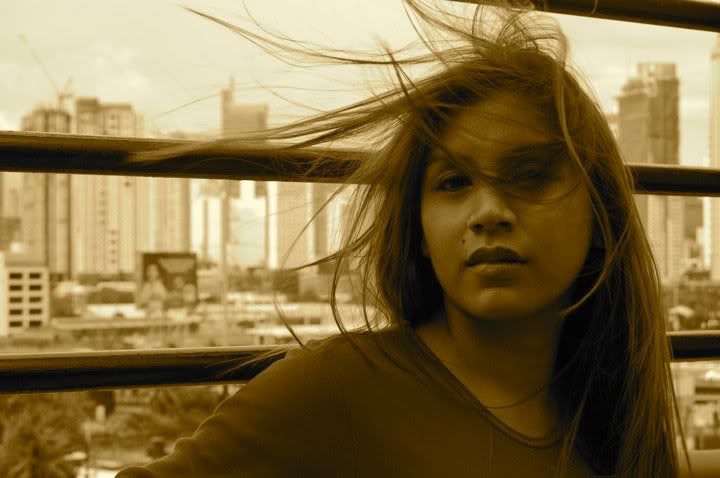 Title: the view
converging lines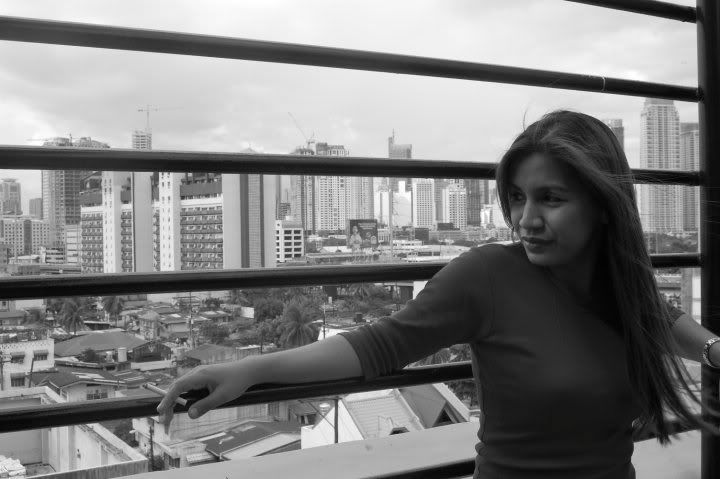 Title: going up and going down
Location: 5th floor elevator lobby
Framing
i took up photography class called "photoworks" by Leo Castillo. below are the photo projects which with given to us to submit.


here's an actual resignation letter by a friend to his boss.

Dear Boss,
Please accept my resignation from this company effective (1 month from the date of filing). As honesty is a virtue, I have considerable pleasure telling you what a torture it was working under your supervision. Not a day goes by that I miss the excruciating pain of seeing your fungus-marked face, hearing your toad-like voice, and expecting a myriad of barking orders that only house elves in Harry Potter's world would delight in understanding.

Writing this letter is the only silver lining in an otherwise gloomy working environment under your command. Remembering my first few days at work, I was half-excited, half-terrified, I know you were expecting me to perform just enough to merit me the position I applied for. And I kept in mind that I am able, willing, and capable to justify you hiring me. But it was all downhill since then. I can not for the life of me remember a day that is not fully terrifying. You expect me to stand up to the lofty expectations you have set and yet I felt that you only want your people to shiver and quiver every time a word leaves your foul mouth.

Yes, it feels really good to be home. I now dread leaving the comfort of our homes to go to the prison you dare call your office. At least the real prisoners get the chance to dance and be seen by the world. And it looks like they are having fun. This prison you have set has no semblance of fun at all. At least some of the people are actually funny. And the only real fun we have had was the times you missed the jokes we shared, and the times we turned you into a joke.

You are a sick person and an even sicker boss. I understand that you have been thrust in a position you merely dream about and had no previous experience in actually handling whatsoever. And so you did what any intelligent scientist will do, you resorted to trial and error, with us as your subjects. But you forget that we are humans and not guinea pigs, and that we can not perform magic, and that we do not understand the gobbledygook you seem to utter every effing day. If you wanted miracles, you should have hired Judiel Nieva of Agoo fame, although I doubt if you can convince him not to come in the office in dresses more flamboyant than the set you tend to wear.

I have been an effective employee prior to working with this department and I was wondering what the hell I did wrong that I am now feeling incapable of excellence. But you see? I am writing this letter in an exemplary fashion. If you do not still get it, I wrote this excellent letter because I feel a flood of liberating happiness, of exhilarating relief, and of finally counting the remaining days under your ineptitude and blundering ways.

I do not feel any remorse leaving this office. My only regret is I will not see the day people here finally realize the great fraud that you actually are.

Sincerely yours before but no more,
an employee
to some people who are living in hell in the workplace.
Dear Max,
I most definitely believe that 26 is the best age you can ever be. You're old enough to do whatever you want. You are earning a substantial amount of money as compared to entry level employee. You can wear whatever you want without being told what your wearing is not suitable for your age. You can be crazy at the same be called beautiful without being judged that you're being ridiculous. You can have gowns made to suit you because there are weddings to attend with a possibility in meeting guys who are equally suited without the feeling as if it's a soiree. You can have a boob job cause you wanna be more sexier without the thought that it's trying hard too much. You can just escape a while and come back with your soul found. You can drive fast with the wind blowing in your face at 4am from a night out with friends. Your metabolism hasn't completely deteriorated that you can still eat the balat of the lechon. Your parents encourage you to go out especially if you're single. You can be fearlessly single if you choose to be. you can wear your aviator shades while sipping a fruitshakes admire the view of hot men in the beach without being too young for them or be too old. You can your most flirty self and blame it being under the influence of alcohol and be forgiven.
There are a million of reasons why it's awesome to be 26 so sit back enjoy!
And this post influenced by Francis M 's "Girl Be Mine"

2. Courtships are not for the jaded.
3. I have a rough exterior with a surprise center. That's the only way I can describe myself and why I'm "bad ass". There are those who got to know me and more often than not, I do surprise them.
4. I don't believe in putting the best foot forward. however, redemption will take a while if you started off on the wrong foot.
5. Sad to say, there are guys who cannot handle flattery and worst how to respond to it.
6. Love at first sight is not something believable, although, there are moments when I just have unexplainable, irrational, nonsensical, times that I get irrevocably intrigued. Until now, from the first time it happened, what I felt has not changed.
7. Sincerity and honesty are novelties. Finding it at this age and through a new person is like seeing Hailey's comet.
8. If sexual chemistry is what makes marriage glue together, then can sexual chemistry bring about a relationship?
9. I'm freakin' out I haven't lost weight majorly and I have a deadline. The reading the hotness meter should increase big time!
10. I got a photo project due tomorrow, and i haven't done anything!
11. If you're stuck in a relationship rut? my advise is to treat your girlfriend as your mistress. that's interesting!
1. If you have no intentions in making a strong girl stronger, then don't try to break her spirit, give her a hard time, or even hurt her, it's going to toughen her up.